If you are doing an internship in Bali you would want to try to live like a local. In this article, Dian, Balinese is giving 5 ways on how to live like a local in Bali!
5 Ways to Live Like a Local in Bali
1.Dine at Warungs
The best way to find authentic and traditional food in Bali is to get it in Warung. A Warung is a local restaurant, run by a small family selling local food with good taste and cheap price. It normally doesn't have table cloths, cutlery sets or music in a room. It's just a simple room with tables and chairs without any fancy decoration.
The food in a Warung is cooked directly when you order, but there's also some which serves pre-cooked food. They displayed the food in a glass cabinet and you can choose whatever you want to eat. Here are the steps on how to order in Warungs:
You first start with rice (they have an option like yellow rice, brown rice or white rice)
Then choose the side dishes that have been cooked. There's chicken, egg, Tempe, tofu, salad, sambal and many more.
Some Warungs don't deliver the food to your table so you have to wait until the food is placed on the plate and bring it on your own.
After you finish eating. You come to the cashier and pay. They will ask what you eat so you have to remember. However, sometimes they will give you numbers and if that's the case, just give them the numbers, and they already know how much you need to pay.
One of the reasons why locals love to eat in Warung is because the price is way cheaper compared to restaurants even when they served the same food. You can get a portion of Nasi Goreng for $1.50 in a Warung while you have to pay around $3.00 in a restaurant. A $3.00 Nasi Goreng might be considered as cheap for some people, but the longer you live in Bali, you will know how much a meal would cost and if it's worth it or not.
2. Shop at the local market
Fruit is considered cheap in Bali, and it's way cheaper if you go to the local market. The market opens in the morning from around 5 am – 7 am. If you go there, you will find many people selling many kinds of fruit and vegetables from all regions of Bali. The fruit and vegetables are more fresh compared to the one from the supermarket. Since the products mostly come from the local farmer, you'll be helping the local community as well if you buy it there.
The seller in the market gives a fair price even to foreigners. There might be some sellers who ask for a high price but compared to the price in the supermarket, it's still cheaper. It's good to know a little bit of Bahasa when you shop at the local market since most sellers can't speak as well as Balinese who work in the tourism industry. Here are some Bahasa words that you can use when you go to the local market:
Selamat Pagi = Good Morning
Berapa harganya? = How much is the cost?
Kasih Murah = Give me cheap price
Mahal = Expensive
Terimakasih = Thank you.
3. Get yourself a scooter
Driving a scooter can be scary but you don't have a choice when you are in Bali. The best way to get around and enjoy Bali is by driving a scooter. Unlike other islands in Indonesia, Bali doesn't have its own public transportation. They do have a taxi but you don't want to pay high prices whenever you want to go somewhere right?
The price to rent a scooter is ranging from $55 to $150 a month it depends on the types of the scooter. If you're new to it, you can ask your landlord to give you a lesson (it's pretty normal in Bali). Here are things you need to pay attention when you are driving:
Always use your helmet
Having an International Driver's License
Stay calm when you get stopped by the police
Always use the signal direction
Apply sunscreen!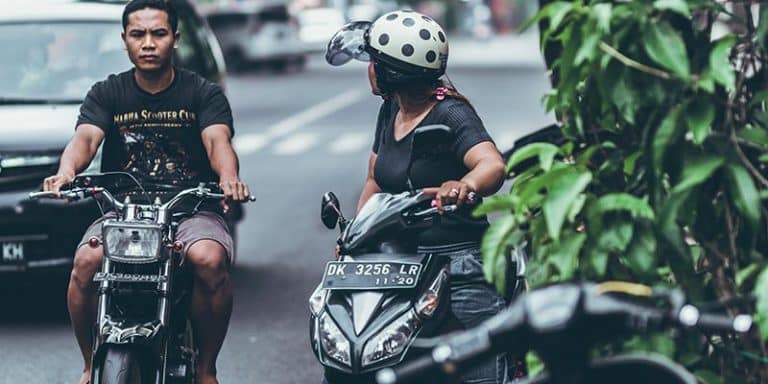 4. Trade your Pants for a Sarong
You can feel like locals if you dress like one. When you come to Bali, you will often see men and women wearing "Sarong". It's like a wrapper sewn together into a tube and wrapped around the waist. Balinese usually wear this to attend religious ceremonies. Other than Sarong, you can also wear "Batik". It's a traditional fabric in Indonesia specially designed, stamped, waxed, and dyed to create beautiful patterns. You easily find this pattern on pants, shirt, or scarf and you can comfortably wear it throughout the day.
You can get Sarong or Batik in the art market. It's considered as a touristy place, so if you want to get one, you need to bargain. Cost for a Sarong is around $3 – $5 and for a Batik shirt is around $10 – $20 depends on the quality.
5. Attending Ceremonies
Balinese people celebrate life through daily rituals and ceremonies. If you live in Bali, it is certain that you will see temple festivals, colorful and vibrant procession, or simply a village doing their ritual. If you stay longer, your Balinese friends or your landlord might invite you to join their family rituals such as birth celebrations, tooth filing ceremonies, weddings, and cremations. The Hindu practices are held dear by the Balinese, and it's an honor if you got invited to a ceremony.